Gezocht: Theatre Lab Regisseur studententheatervereniging (ENGLISH)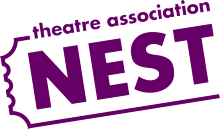 Theatre Association NEST is the student theatre association of the University of Twente. The association was reestablished in 2012 and creates six productions every year. Members who enjoy writing and performing their own plays, and who want more knowledge and experience in that domain, are offered a place in an international group in which they can create their own performance with a professional helping hand.
Therefore, for the college year 2021-2022, NEST is looking for:
(Graduating) Theater teacher/-director (m/f) for the TheatreLab
The theater course starts in September and consists of two parts. In both parts the director will work with the players towards a performance. The rehearsals will take place on Friday evening between 18:20 and 2
1:00 in a space of the Vrijhof Building on the campus of the University of Twente. Outside of regular Friday evenings there will also be performance weeks, where there is a final rehearsal and a performance. Before the second performance a rehearsal weekend will be organised and a few open lessons for the TheatreLab will be offered at the start of both rehearsal periods. These are standalone lessons that will be accessible for anyone who is interested.
Function requirements
We are looking for a (graduating) theater teacher or director. You will have responsibility for the theater production with a performance or presentation as end goal. Your main focus will be to assist the players on every level and to motivate them to collectively create a performance. You will have oversight and control over the entire production process and will be responsible for the stage setting and costumes along with the players.
We ask for
– Proficiency in the English language
– At least in graduation phase of an education for theater teacher (or similar level/education)
– Affinity with directing students
– Ability to set up a production together with the players
– Ability to motivate and energize the group of players
– Availability on Friday evening
– Presence at rehearsal weekend and the performance outside of the fixed working hours
We offer
A fun association with great atmosphere where all players participate in theater on their own level and can be described as motivated, creative and independent. A good learning environment for a (starting) director, due to students eager to learn and support from the association board and several committees. For this function we can offer industry standard financial compensation.
Written responses can be directed at:
Theatervereniging NEST
Vrijhof, Universiteit Twente
Postbus 217
7500 AE Enschede
E-mail: board@nest.utwente.nl
Geplaatst door:

Theatervereniging NEST

E-mail adres:

Telefoonnummer: